For More Information, Please Contact Our Specialty Scaffold Experts:
Please call us at 888-725-5995 or Fill out an online request here
Shop by Scaffolding Category
---
Aluminum
Aluminum Scaffolding gives quick and easy access to overhead work for maintenance and construction. Aluminum Scaffolding is often used in the construction of office buildings, factories, schools, and hospitals.
Aluminum Examples

Aluminum Scaffolding brands
• Werner • Aldek • UpRight • Advance Scaffold • Vault
Advantages of Aluminum Scaffolding
Aluminum has many advantages over other scaffolding materials: it is lightweight, versatile, and water resistant, making it a great choice for outdoor construction. It is also cost effective compared to other materials commonly used in maintenance or construction scaffolding such as wood and steel.
Uses in Maintenance
• Office Buildings • Factories • Airports • Theaters • Churches • Hospitals • Shopping Malls • Schools
Uses in Construction
• Electrical • Dry Wall • Insulation • Painting
UpRight Scaffold Towers
UpRight Scaffold Towers feature the original RIB-GRIB system that counteracts the annealing effect of welding. Because welding can weaken the metal, the RIB-GRIB system restores the original strength of the metal. Independent laboratory testing has verified that RIB-GRIP joints are three times stronger than welded joints.
All UpRight aluminum scaffolding meets or exceeds the requirements of OSHA 1910.29 and ANSI A10.8-1988.
---
Fiberglass
National Ladder & Scaffold Co. offers lightweight, portable, and safe access scaffolding with their Fiberglass Scaffolding System. The fiberglass scaffold has no electrical conductivity or reaction to chemicals, making fiberglass scaffolding ideal for working with exposed electricity or chemicals. Because of this, fiberglass scaffolding is safe and reliable.
Fiberglass Examples

Fiberglass Brands
• Advance Scaffold • Genex
Advantages of Fiberglass Scaffolding
Fiberglass Scaffolding is non-conductive
Fiberglass Scaffolding is composed of materials that have been tested by independent laboratories and has been certified non-conductive in compliance with ANSI standards. Fiberglass scaffolding's high strength composite of materials makes this equipment ideal for electricians, electrical contractors, and electrical utility workers because our Fiberglass Scaffolding is non-conductive.
Fiberglass Scaffolding has chemical-resistant components
Compound materials in our Fiberglass Scaffolding prevent premature material erosion that could occur when working around chemicals. This is beneficial for those who work in chemical plants, hospitals, computer chip manufacturing plants, and restaurants.
Fiberglass Scaffolding will not oxidize
The materials in our Fiberglass Scaffolding will not oxidize like conventional aluminum scaffolding. When you need your surfaces and materials to stay clean, Fiberglass Scaffolding will reduce surface damage and clean up time on remodeling, interior building maintenance, drywall, and painting assignments.
Communicate safety with "Fiberglass Orange"
The highly visible color of National Ladder & Scaffolding's Fiberglass Scaffolds helps to keep workers safe, and safety conscious when working. This distinctive color that is internationally known for safety is especially important for when motorized equipment is in use.
Uses In
• Electrical Contractors • Electrical Utilities • Remodeling contractors • Drywall contractors
• Painting Contractors • Ceiling Contractors • Maintenance Contractors
• Rental yards • Schools • Hospitals • Institutions
• Building and facilities maintenance • Fashion industry • Theatrical and entertainment companies
---
Custom
Whatever your needs, we can design and build it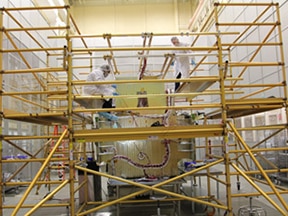 A Vault aluminum scaffold anodized with a special gold finish to meet the requirements of an aerospace "clean-room" to manufacture a satellite.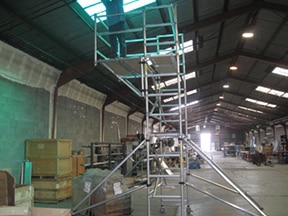 This aluminum scaffold tower was designed with a large side cantilever work platform to allow access to the lights above an escalator.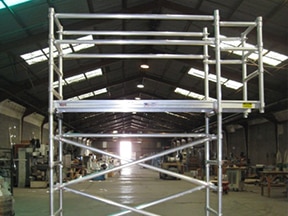 This custom-built Vault aluminum scaffold tower shows a front cantilever work plafrom and was built for access of "Old Glory" during its restoration at the Smithsonian Museum of American History.
civilwar.si.edu/soldiering_oldglory.html
For More Information, Please Contact Our Specialty Scaffold Experts:
Please call us at 888-725-5995 or Fill out an Online Request Below