---
For current pricing and availability please contact Bob Fromm: 248-765-2258 | bob@natlad.com
---
EZ Ramp Trailers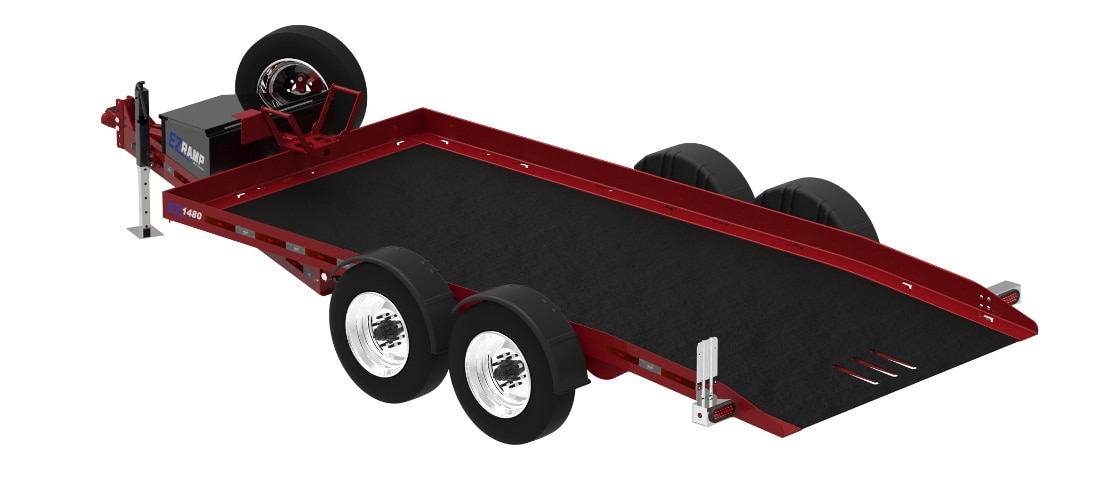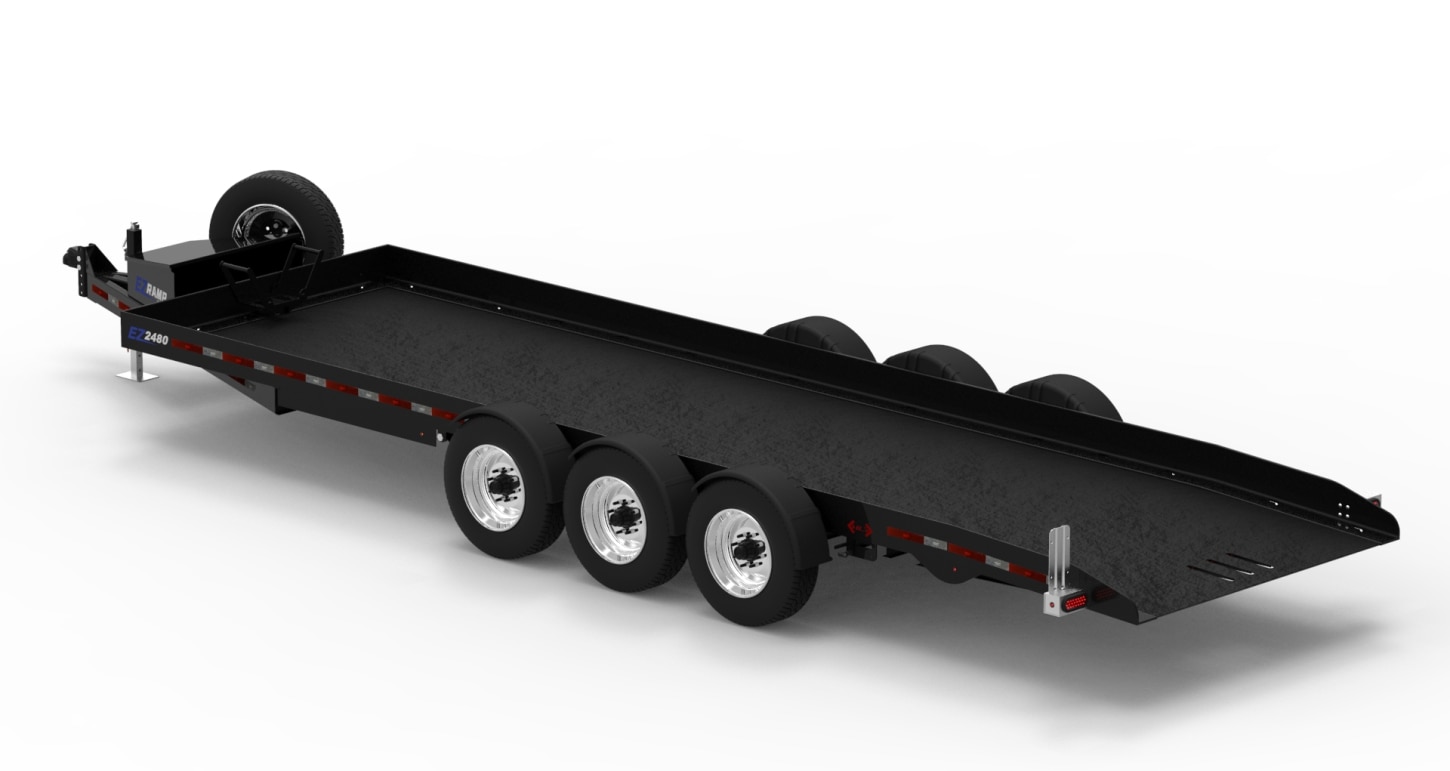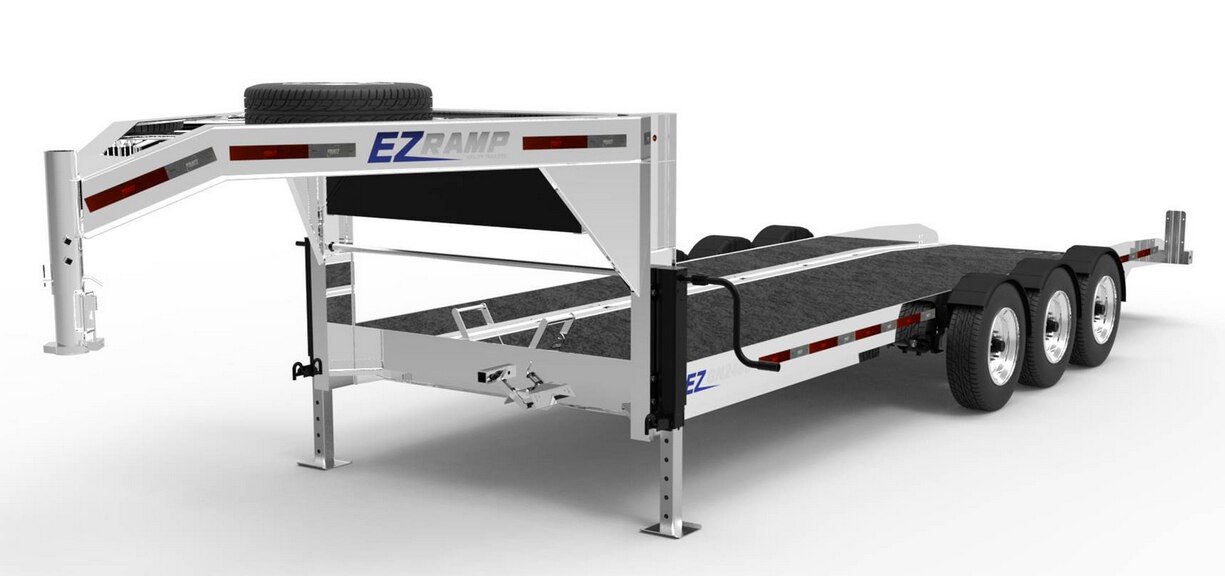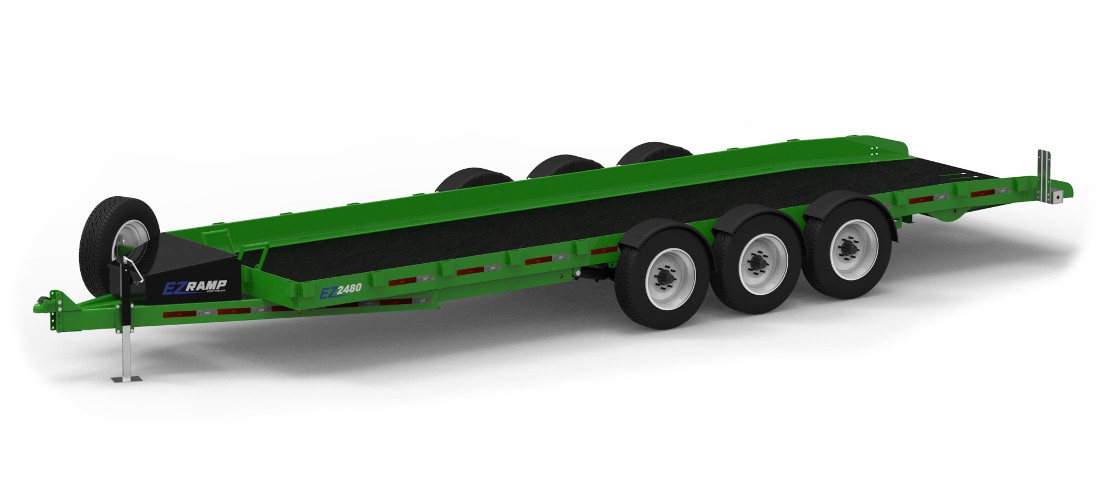 Features and Benefits
The safest and easiest ramp.
• Designed to load and unload equipment with out being hooked up to the tow vehicle.
• Weight on the ground.
• Aircraft carier deck coating, non slip even.
• No wood to rot or break.
• Composite fenders do not rust. Easy to replace and ship.
Load the largest equipment:
Scissor lifts, Floor Scrubbers, Fork Lifts, Skid Steers, Cranes, Cement cutters, Mini Excavators, Rollers, Mowers, Booms

Specifications
Model
EZ-0865
EZ-1065
EZ-1260
DIMENSIONS
Maximum Payload
1,500 LBS
3,200 LBS
5,000 LBS
Axle Rating
1 x 3,500 LBS
5,500 LBS
7,000 LBS
Trailer Weight
800 LBS
1,600 LBS
1,755 LBS
Overall Width
82"
87.5"
82"
Overall Length
12'
15'
17'
Loading Surface Area
65" x 8'
65" x 10'
60" x 12'
STANDARD FEATURES
Deck Surface
Steel Plate with Anti-Skid Coating
Steel Plate with Anti-Skid Coating
Steel Plate with Anti-Skid Coating
Lifting Device
Hydraulic with Electric Assist
Hydraulic with Electric Assist
Hydraulic with Electric Assist
Suspension
Single Torsion Axle
Single Torsion Axle
Single Torsion Axle
Wheel Size
12"
15"
17.5"
Hitch Size
2" Welded Style
2" Ball Standard
2-5/16" Ball Standard
Systems and Storage Box
Standard
Standard
Standard
Lighting
LED
LED
LED
Battery
Group 27
Group 27
Group 27
Top-Wind Manual Jack
2,000 LBS
7,000 LBS
7,000 LBS
Manual-Lock Hydraulic Cylinder
Standard
Standard
Standard
Options
Aluminum Rail Kit, 10 Amp On-Board Battery Charger,
Single Spare Tire Carrier, Spare Tire, Wireless Remote,
Direct Vehicle Charging Cable, Drum Surge Brakes,
Winch Kit, Custom Colors, Solar Trickle Charger,
Disc Surge Brakes
Aluminum Rail Kit, 10 Amp On-Board Battery Charger,
Single Spare Tire Carrier, Spare Tire, Wireless Remote,
Direct Vehicle Charging Cable, Drum Surge Brakes,
Winch Kit, Custom Colors, Solar Trickle Charger,
Disc Surge Brakes
Aluminum Rail Kit, 10 Amp On-Board Battery Charger,
Single Spare Tire Carrier, Spare Tire, Wireless Remote,
Direct Vehicle Charging Cable, Drum Surge Brakes,
Winch Kit, Custom Colors, Solar Trickle Charger,
Disc Surge Brakes
Model
EZ-1265
EZ-1265T
EZ-1480
DIMENSIONS
Maximum Payload
5,000 LBS
7,000 LBS
10,000 LBS
Axle Rating
7,000 LBS
2 x 5,500 LBS
2 x 7,000 LBS
Trailer Weight
1,755 LBS
2,500 LBS
2,800 LBS
Overall Width
92"
92"
102"
Overall Length
17'
17'
19'
Loading Surface Area
65" x 12'
65" x 12'
80" x 14'9"
STANDARD FEATURES
Deck Surface
Steel Plate with Anti-Skid Coating
Steel Plate with Anti-Skid Coating
A Steel Plate with Anti-Skid Coating
Lifting Device
Hydraulic with Electric Assist
Hydraulic with Electric Assist
Hydraulic with Electric Assist
Suspension
Single Torsion Axle
Single Torsion Axle
Twin Torsion Axle
Wheel Size
16"
15"
17.5"
Hitch Size
2" Ball Standard
2-5/16" Ball Standard
2-5/16" Ball Standard
Systems and Storage Box
Standard
Standard
Standard
Lighting
LED
LED
LED
Battery
Group 27
Group 27
Group 27
Top-Wind Manual Jack
7,000 LBS
7,000 LBS
7,000 LBS
Manual-Lock Hydraulic Cylinder
Standard
Standard
Standard
Options
Aluminum Rail Kit, 10 Amp On-Board Battery Charger,
Single Spare Tire Carrier, Spare Tire, Wireless Remote,
Direct Vehicle Charging Cable, Drum Surge Brakes,
Winch Kit, Custom Colors, Solar Trickle Charger,
Disc Surge Brakes
Aluminum Rail Kit, 10 Amp On-Board Battery Charger,
Single Spare Tire Carrier, Spare Tire, Wireless Remote,
Direct Vehicle Charging Cable, Drum Surge Brakes,
Winch Kit, Custom Colors, Solar Trickle Charger,
Disc Surge Brakes
Aluminum Rail Kit, 10 Amp On-Board Battery Charger,
Single Spare Tire Carrier, Spare Tire, Wireless Remote,
Direct Vehicle Charging Cable, Drum Surge Brakes,
Winch Kit, Custom Colors, Solar Trickle Charger,
Disc Surge Brakes
Model
EZ-1980
EZ-2480
DIMENSIONS
Maximum Payload
10,000 LBS
17,000 LBS
Axle Rating
2 x 7,000 LBS
3 x 7,000 LBS
Trailer Weight
3,323 LBS
5,000 LBS
Overall Width
102"
102"
Overall Length
24'
29'
Loading Surface Area
80" x 19'
80" x 24'
STANDARD FEATURES
Deck Surface
Steel Plate with Anti-Skid Coating
Steel Plate with Anti-Skid Coating
Lifting Device
Hydraulic with Electric Assist
Hydraulic with Electric Assist
Suspension
Twin Torsion Axle
Triple Torsion Axle
Wheel Size
17.5"
17.5"
Hitch Size
2-5/16" Ball Standard
2-5/16" Ball Standard
Systems and Storage Box
Standard
Standard
Lighting
LED
LED
Battery
Group 27
2-5/16"
Top-Wind Manual Jack
7,000 LBS
10,000 LBS
Manual-Lock Hydraulic Cylinder
Standard
Standard
Options
Aluminum Rail Kit, 10 Amp On-Board Battery Charger,
Single Spare Tire Carrier, Spare Tire, Wireless Remote,
Direct Vehicle Charging Cable, Drum Surge Brakes,
Winch Kit, Custom Colors, Solar Trickle Charger,
Disc Surge Brakes
Aluminum Rail Kit, 10 Amp On-Board Battery Charger,
Single Spare Tire Carrier, Spare Tire, Wireless Remote,
Direct Vehicle Charging Cable, Drum Surge Brakes,
Winch Kit, Custom Colors, Solar Trickle Charger,
Disc Surge Brakes