---
For current pricing and availability please contact Bob Fromm: 248-765-2258 | bob@natlad.com
---
No Ramp Trailers
Eliminate injuries, save time and money and avoid equipment damage.
• Lightweight ramps
• Provides ground level approach, preventing valuable equipment damage.
• Vehicles do not need to be attached when loading or unloading.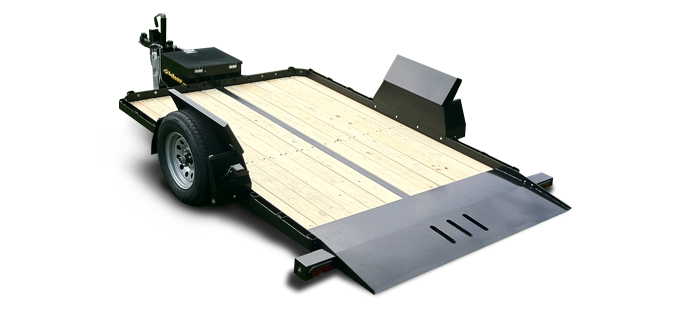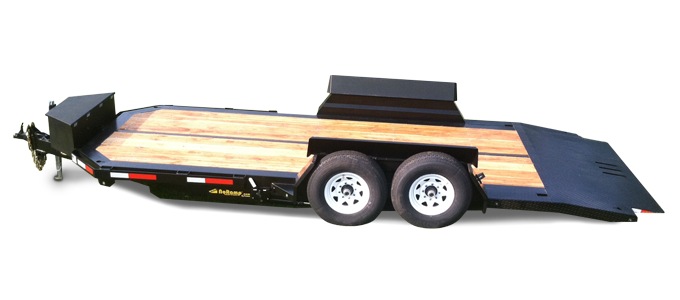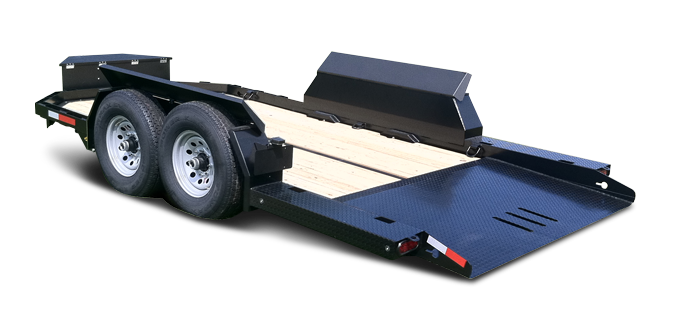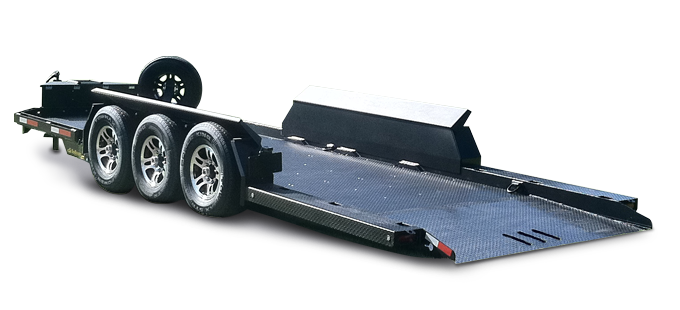 Features and Benefits
Low Approach Angle
Ability to load any low clearance equipment quickly and safely due to low approach angle.
Stake Bed Pockets With Rub Rail
Provides additional tie down locations, framing-or-racking opportunity, and added main frame strength.
Torsion Axle
Superior ride and long life.
Led Rubber Mounted Lighting
Better visibility for safety, and low voltage draw for battery life.
Protected Wire Harness
Harness runs through 3" steel center channel reducing maintenance costs and lighting failures.
Auxiliary Receiver
Used for winch mount and other needs.
Locking Mechanism
For assured safety of load, in case of accidental hydraulic line damage.
15` Extension Cord Control Module
Allows for activation of trailer at the systems box, or up to 15` away.
Easy Access Grease Zerks
Deck side grease zerks for axle pins, and fender hinges.
No jack needed for tire changes
Reduces time with added safety. Break lug nuts loose, apply blocks under each rear corner of trailer, and lower unit to raise tires off the ground.
Built-in theft prevention
Lower trailer, engage safety lock, lock systems box, and prevent theft.

Specifications
| Model | RS-9 | U-12 | U-14 |
| --- | --- | --- | --- |
| Maximum Payload | 1950 lbs. | 4,500 lbs. | 10,000 lbs. |
| Axle Rating | 3500 lbs. | 1 x 7,000 lbs. | 2 x 7,000 lbs. |
| Trailer Weight | 1050 lbs. | 2,100 lbs. | 3,600 lbs. |
| Trailer Weight | 800 LBS | 1,600 LBS | 1,755 LBS |
| Overall Width | 94" | 82" | 102" |
| Overall Length | 14' | 15' 8" | 19' 6" |
| Loading Surface Area | 72" x 9' | 60" x 10' 10" | 80" x 14' |
| Deck Surface | Treated Pine | Treated Pine | Treated Pine |
| Deck Surface | Steel Plate with Anti-Skid Coating | Steel Plate with Anti-Skid Coating | Steel Plate with Anti-Skid Coating |
| Lifting Device | Hydraulic w/Elec. Assist | Hydraulic w/Elec. Assist | Hydraulic w/Elec. Assist |
| Suspension | Single Torsion Axle | Single Torsion Axle | Twin Axle Torsion |
| Electric Brakes | Optional | Standard | Standard |
| Wheel Size | 14" | 16" | 16" |
| Hitch Size | 2" | 2 - 5/16" | 2 - 5/16" |
| Systems & Storage Box | Standard | Standard | Standard |
| Lighting | LED | LED | LED |
| Welded D-Rings | N/A | 4 | 6 |
| Banjo Hole Cut Outs | A multitude of | (4) 2/Side-Frt & Rear | (4) 2/Side-Frt & Rear |
| Battery | Group 31 | Group 31 | Group 31 |
| Stake Bed Pockets | Standard | Standard | Standard |
| Safety Lock | N/A | Standard | Standard |
| Warranty | 1 year | 1 year | 1 year |
Model
U-19
U-24
U-24 GN
Maximum Payload
10,000 lbs.
15,000 lbs.
15,000 lbs.
Axle Rating
2 x 7,000 lbs.
3 x 7,000 lbs.
3 x 7,000 lbs.
Trailer Weight
1050 lbs.
2,100 lbs.
3,600 lbs.
Trailer Weight
4,000
5,400
6,000
Overall Width
102"
102"
102"
Overall Length
23' 8"
27"
32' 7"
Loading Surface Area
80" x 14'
80" x 18'
80" x 20'8"
Deck Surface
Treated Pine
Hardwood
Hardwood
Deck Surface
Steel Plate with Anti-Skid Coating
Steel Plate with Anti-Skid Coating
Steel Plate with Anti-Skid Coating
Lifting Device
Hydraulic w/Elec. Assist
Hydraulic w/Elec. Assist
Hydraulic w/Elec. Assist
Suspension
Twin Axle Torsion
Twin Axle Torsion
Twin Axle Torsion
Electric Brakes
Standard
Standard
Standard
Wheel Size
16"
16"
16"
Hitch Size
2 - 5/16
Pintle
Gooseneck
Systems & Storage Box
Standard
Standard
Standard
Lighting
LED
LED
LED
Welded D-Rings
6
6
6
Banjo Hole Cut Outs
(4) 2/Side-Frt & Rear
(4) 2/Side-Frt & Rear
(4) 2/Side-Frt & Rear
Battery
Group 31
Group 31
Group 31
Stake Bed Pockets
Standard
Standard
Standard
Safety Lock
N/A
Standard
Standard
Warranty
1 year
1 year
1 year